Friends of the Harrington Public Library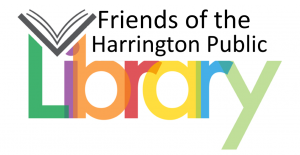 The next meeting will be Tuesday, September 13th @ 6:00 pm
Who are the Friends of The Harrington Public Library?
We are book lovers, information seekers, readers, listeners, music, and movie buffs. We are young and old, with varying interests and backgrounds. We all treasure ideas and value the public library as a vital community resource.
What do Friends do?
The Friends support library programs, raise funds for special purposes (Like a new building), volunteer to do projects, promote community awareness of libraries, and advocate for funding for the Library. The Friends continue to work towards the goal of a new building for the library. We are volunteers in the library and do Book Sales to support programing at the library. Some Friends are deeply involved, and others lend moral support.
What about you? Would you like the satisfaction of knowing you have helped with others in showing strong support for your library?