Ruth Peterman named 2020 City of Harrington Employee of the Year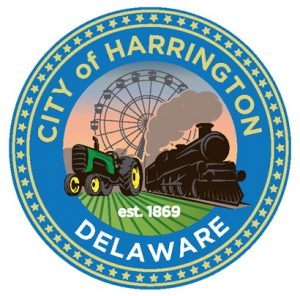 City Hall
106 Dorman Street
Harrington, DE 19952
Tuesday, December 22, 2020
Selecting a City of Harrington Employee of the Year is not an easy task for the person making the selection, especially when there are so many deserving candidates. I appreciate the time and effort of the employees who submitted their recommendation for Employee of the Year and more importantly, the reasons why you submitted the employee for such outstanding recognition. I decided to distribute all the names of the employees who were submitted for Employee of the Year, and the descriptions why they were submitted for such an honor. You can clearly see why the selection is such a difficult decision, but there must be a finalist chosen amongst all the submitted employees. All the submitted employees should feel honored and proud that another employee thought enough of their performance to submit their name to be Harrington City Employee of the Year 2020.
The 2020 Harrington Employee of the Year is, Ruth Peterman, from the Police Department. Ruth is a well-rounded employee who is experienced in several positions in many Departments. She jumps in and helps were she is needed and requires very little direction and follow up. She is very resourceful and is a supportive resourceful asset for any employee who may need it. Ruth, Congratulations on your selection to be honored as City of Harrington Employee of the Year 2020.
Ruth Peterman
"Ruth has always been extremely kind and supportive to the police as well as other City departments. She has shown great loyalty to the City as well and is always willing to lend a hand."
"Ruth is a faithful, long time, enthusiastic employee of the City of Harrington. She is always willing to step in to help. She is a great role model and all-around nice person!"
"I feel that Ruth deserves nomination because she has been a real backbone for the City while the employees have gone through another administration change. She is always willing and available to help her fellow co-workers in other departments, and she has faithfully served the City for more than twenty years."
"It is with great pleasure that I am nominating Ruth K. Peterman for the 2020 Employee of the Year within the City of Harrington. Mrs. Peterman has been a loyal and dedicated employee of the City for the last 32 years, beginning her career with the police department on September 29, 1988. Since being hired, she has worked under four different police administrations, and has played a critical role in a seamless and uninterrupted transition between those Chiefs. She has always had a positive attitude toward her work and has touched the lives of not only the officers she has worked with, but those in many other departments in the state. Mrs. Peterman has also been called upon numerous times during her career to assist with payroll and human resource matters in the City during times of absence or vacancies at City Hall and has done so without hesitation. She is in charge of tracking all of the departments' grants and budgeting details. She is also involved with several activities within the City such as Heritage Day, parades, and National Night Out. Recently, she was picked as chairperson of the revamping of the City Personnel Manual, a task that took hours upon hours of time outside of the normal workday. She has always provided a positive and enthusiastic approach to tasks like this, as well as her regular work. In closing, these short paragraphs are just a tip of the iceberg of the contributions that Mrs. Peterman has made to the City of Harrington in the last 32 years. It is my honor to nominate her for 2020 Employee of the Year."
Doug Poore
"Doug goes above and beyond his job description. He never turns down a request for assisting his department's ability to move forward. Will multitask whenever needed as the City can attest to his efforts as well."
Kristen Figgs
"Kristen is very dependable; she is always available to help out when necessary despite of her workload. She works hard at her position and seeks out information if needed. She is a great asset to the City."
Karen Brittingham
"Karen has been a team player since day one! She is determined, patient and hard working. If you ask her a question and she may not have an answer, she will always help find the answer. She has such a great spirit. A true delight to work with."
Marleena Scott
"I have only worked with Marleena for a few short months, but I feel as though she really loves her job and has a passion for serving her community. During the COVID pandemic, the library has had to completely revamp the way they did things. Marleena always has a positive attitude and looks for new ways to help the kids in her community. She also brings over all the crafts and goodie bags for the employee's children too. Marleena has also been a part of several interview panels, personnel policy manual revision, attends all Department Head meetings, and was involved with the Library's budget process. I believe Marleena has a goal for the Library and will do anything to achieve it and I believe she will."
Bill Falasco
"Bill has a passion for his job, and you can quickly see that come out in his hard work and dedication. He loves working with the public and heading up events like the parade and Heritage Day. Bill goes above and beyond his job duties and takes pride in his work. Lastly, I nominate Bill for employee of the year because of the role model he is to the many people he impacts every day.
Daniel Tartt
City Manager
City of Harrington
106 Dorman St
Harrington, DE 19952
302-398-3530