A Year of Celebration – Harrington turns 150! UPDATED April 25, 2019
The 150th Anniversary Committee has been working hard to organize events to celebrate the 150th anniversary of the incorporation of the City of Harrington.
Up next is a day of events celebrating Memorial Day on Monday, May 27, 2019. Highlights include:
Red, White, and Blue Color Run at 7 a.m.
Parade at 9 a.m.
Wreath laying at Clark monument with Delaware's involvement in the Revolutionary War by George Washington following the parade
American Legion Post 7 wreath laying at Hollywood cemetery at 11 a.m.
Historical Society open until 4 p.m.
See the 150th Anniversary website for a complete list of events for that day.
There will be several events throughout the year, so please join us for "A Year of Celebration" in honor of Harrington's anniversary.
Keep up to date and get more information on the 150th Anniversary website.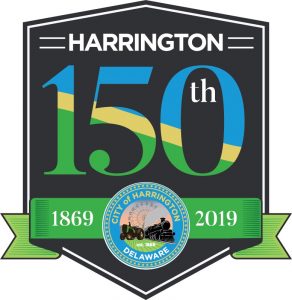 Tags: 150th, Community Group, Events