Trash Collection Reminders
This is a friendly reminder that the following rules regarding trash collection must be followed:
All garbage containers must be placed for collection between 3 pm the day before and 6 am the day of collection
If possible, please do not block sidewalks with garbage containers
All garbage containers must be removed from the collection area by 11:59 pm the day it has been emptied
Garbage containers must be stored at the side or the rear of the structure and not visible from the street (screening can be used)
Yard waste* (grass, leaves, branches) and construction debris is not allowed in garbage containers
See Chapter 305, Property Maintenance, Section 305-8 of the Code of the City of Harrington.
Please call City Hall, 398-3530, if you have any questions.
* Yard waste can be dropped off at the Public Works Yard, 102 Franklin Street, on Wednesdays 9 am-5:30 pm (winter hours are 9 am-3 pm).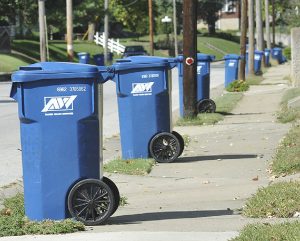 Tags: Code enforcement, Trash, Yard waste